Bye bye paperwork. Hello sky.
Completely automate the compliance process of flight planning, following and managing.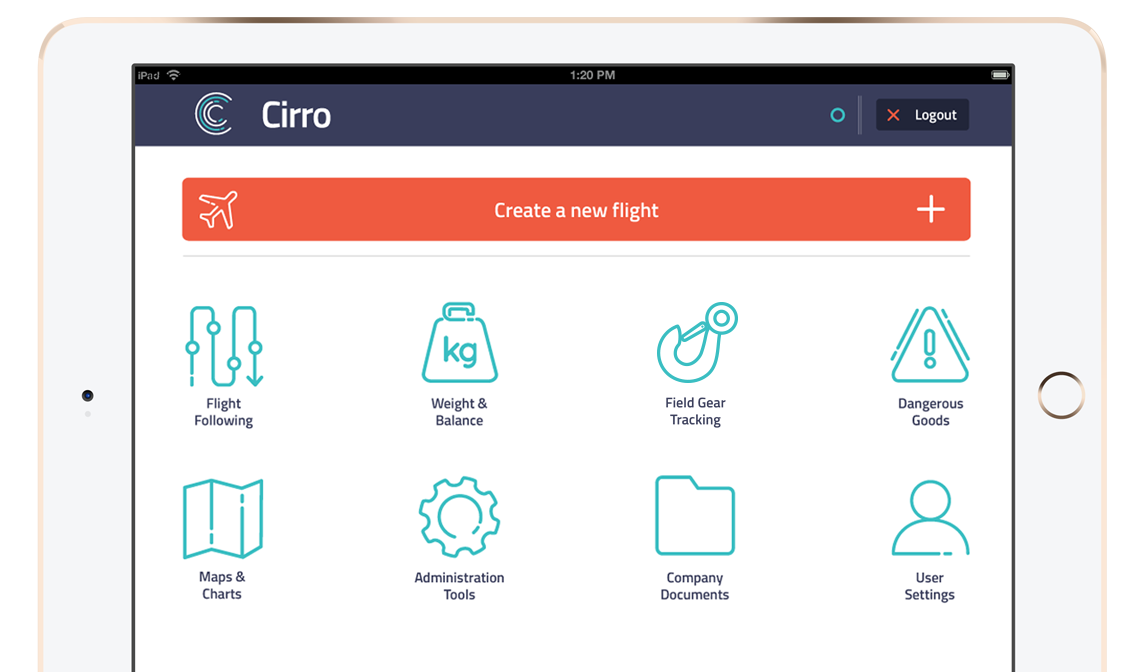 Flight operators, meet your new wingman.
Introducing Cirro.
Cirro is unique and automated flight management software option for fixed wing and helicopter operators that automates the compliance process of flight planning.
Personal Itineraries
Track users, vehicle, and personal tracking devices with automated warning and overdue alerting.

Vehicle Maintenance
Add vehicles, assign tracking units, track maintenance, odometer readings and fleet management.

Passenger Manifesting
Add passengers, create manifests, aircraft briefing forms.

Dangerous Goods
Create TDG manifests easily using a step-by-step acceptance process.

Scheduler
Schedule bookings, operations, and maintenance activities for both aircraft and staff.

Timesheets
Engineers and managers can track and manage duty times, receive automated alerts, and track job related expenses.
Frequently asked questions
Does Cirro work offline?
Great question! Yes. Loss of your internet connection will not keep you from enjoying the benefits of Cirro. Once you have logged in and have downloaded the system to your mobile device, the system will still operate if the internet connection is lost. If you know that you will be offline in advance you can download documents and maps for future use. Any data you input to Cirro while offline will automatically be uploaded to the system when you re-establish your internet connection. View the full list of modules that function offline 
here
.
Does Cirro work across different platforms?
iOS or Android? Mac or PC? We don't want you to have to choose. Cirro is designed to work on a variety of operating systems and devices.
How is my Cirro data protected?
Cirro uses password protected servers with multiple firewalls to manage and store user data. Intrusion programs detect and inhibit unauthorized intrusions and data mining. Data transmission between users and the system is encrypted, and user access to the system requires password authentication. Granular controls allow admins to customize security for each user, so no one sees things they shouldn't.
Can Cirro handle custom flight duty time rules?
Yes. Cirro can also accommodate custom rules that restrict times beyond industry regulation. It also provides notifications to pilots and administrators when maximum duty time is approaching and exceeded, regardless of the rules being used.